Cosmic Boll (Demo)
A downloadable game for Windows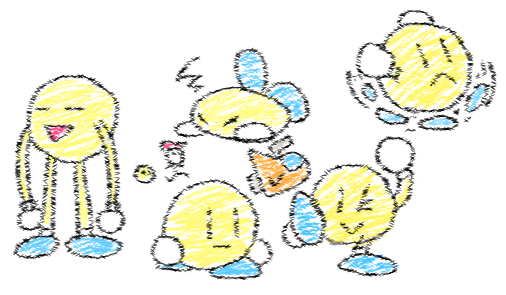 Cosmic Boll is a remake of Bolinha, a game I developed back in 2006 that was itself based on comics I drew as a child back in 1998. After several iterations over the years, I've finally figured out the kind of gameplay that does justice to them. It had been right on my face the entire time.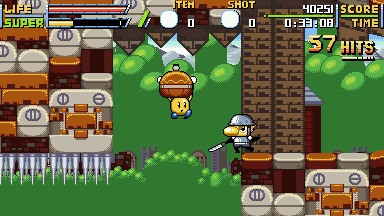 The game is a fast paced beat 'em up with slope physics built on Clickteam Fusion 2.5 and the Sonic Worlds Delta engine (plus the basic enemy AI from LakeFeperd's Simple Sonic Worlds which is likely the same used in Spark The Electric Jester). It mainly takes inspiration from GBA beat 'em ups such as Dragon Ball Advance Adventure and Astro Boy Omega Factor.

As the little blob warrior Bolinha, the player must bowl their way through the army that has destroyed his home.
The current build goes up to stage 1-5.
A miniboss is present at stage 1-2.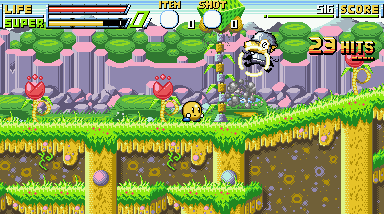 Controls:
Arrow Keys: General movement.
A: Jump/Invincible Dash
S: Normal attacks
D: Core Shot/Quick combo finisher
W: Dash button
E: Core Swap
Tips:
Please combine the arrow keys with either attack button in the ground or in the air to see what moves you can do and how they can be chained together.
Parry attacks and hazards by blocking right before they hit. Quakes and grabs cannot be parried.
Don't get your guard broken, as you'll take double damage and lose SP. When SP goes into negative values, parry something to recover it quickly.
Dashes are only vulnerable to electric attacks. Roll while dashing along the ground to boost.
Wall-bouncing is enhanced by doing it from a rolling jump.
Some of Bolinha's attacks can deflect round projectiles without needing to parry them. And I mean Round. Don't try that on stuff like squares, stars or laser beams.
Enemies of certain colors, like red or pink, won't flinch from attacks and deal double damage. Enemies generally attack in fixed periods, so you can tell when to block and parry them.
Keep a fire core equipped to prevent knockback from getting hit while attacking. Keep a bolt core to gain more invincibility from either getting hit or collecting items.
Why push blocks when when can air dash into them instead? Certain attacks and the bounce ability will move them too.
Consult the Guide section on the game's pause menu for more details.
Note: The game might trigger false positive alerts on antiviruses due to being made in Clickteam Fusion, but a December 2020 update on that software appears to have greatly reduced the chances of it happening.
Note 2: If the game runs very slowly and you've got a gamepad plugged in, try removing it and playing with the keyboard. This is an issue regarding an extension used for detecting controllers in the Sonic Worlds engine which I'm not sure what to do about.

| | |
| --- | --- |
| Status | In development |
| Platforms | Windows |
| Rating | |
| Author | Yoritoshi |
| Genre | Action, Platformer |
| Made with | Bfxr, Clickteam Fusion |
| Tags | Beat 'em up, Colorful, densetsu-no-bolinha, Fast-Paced, marble, rolling, Singleplayer, supimpa, ultra-violence |
| Average session | A few minutes |
| Languages | English |
| Inputs | Keyboard, Joystick |
Download
Download
Cosmic Boll SAGE2021 Proto V002.zip
65 MB